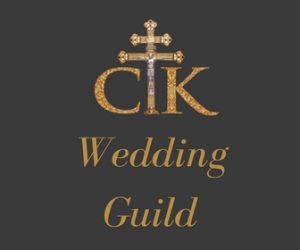 I am reaching out today on behalf of the Christ the King Wedding Guild to ask you to consider joining our ranks.
The Wedding Guild assists engaged couples with the logistical preparations for their ceremony.  We review their plans with them prior to the wedding, assist with the rehearsal and on the "big day" help to manage the wedding itself.   Typically, this involves one or two phone calls with the bride in advance, being at the Cathedral for one hour for the rehearsal (Friday) and approximately three hours the day of the wedding (Saturday).
We are a very flexible ministry – you can assist with as many or few weddings as suit your schedule.  Some of our volunteers do two or three a month, while others are only able to help two or three times during the year. As a new volunteer, you would start by shadowing existing Guild members until you feel comfortable supporting a wedding on your own.
The Wedding Guild is a true service.  We are there to help couples and their families through one of the most exciting days of their life.  We are also there to help the Cathedral by assisting the celebrant and ensuring that ceremonies are conducted respectfully and according to our required guidelines.
If you are interested in learning more – please let me know!  I'm happy to set up a time to talk.  Another great way to learn more about what we do is to attend one of the monthly Wedding Workshops – held the first Monday of every month in the Cathedral.  We give a tour to couples planning their weddings and review all of the various guidelines.
Thank you in advance for your consideration. If you are looking for a way to get more involved with the Cathedral – this is a great one!
Joselyn Baker
jbutlerbaker@comcast.net