Our Perpetual Adoration Chapel is currently open 24 hours a day. From 10 pm to 6 am the Chapel is not open to visitors, but only open to assigned guardians.
Commit to a weekly hour of prayer
Sign up here
Interested, but not ready for a weekly commitment?
Let us know here
To learn more about Adoration
Email adoration@ctking.com.
About Adoration
In order to have this blessing available 24 hours a day, we must have volunteer guardians committed for each hour throughout the week to spend time in the presence of our Lord. This is a wonderful opportunity to pray silently before our Lord for comfort, strength, peace and direction and to present him with your needs and intentions. Parishioners may sign up as volunteer guardians (sign up for one hour a week), substitute guardians (to cover individual schedule conflicts), or coordinators (in charge of scheduling).
Where is the Adoration Chapel?
Enter the Cathedral and face the altar. To the left of the altar, you'll see a statue of Mary over a side altar. To her right is a narrow door. Enter, and immediately on your left is the door for the Blessed Sacrament Chapel.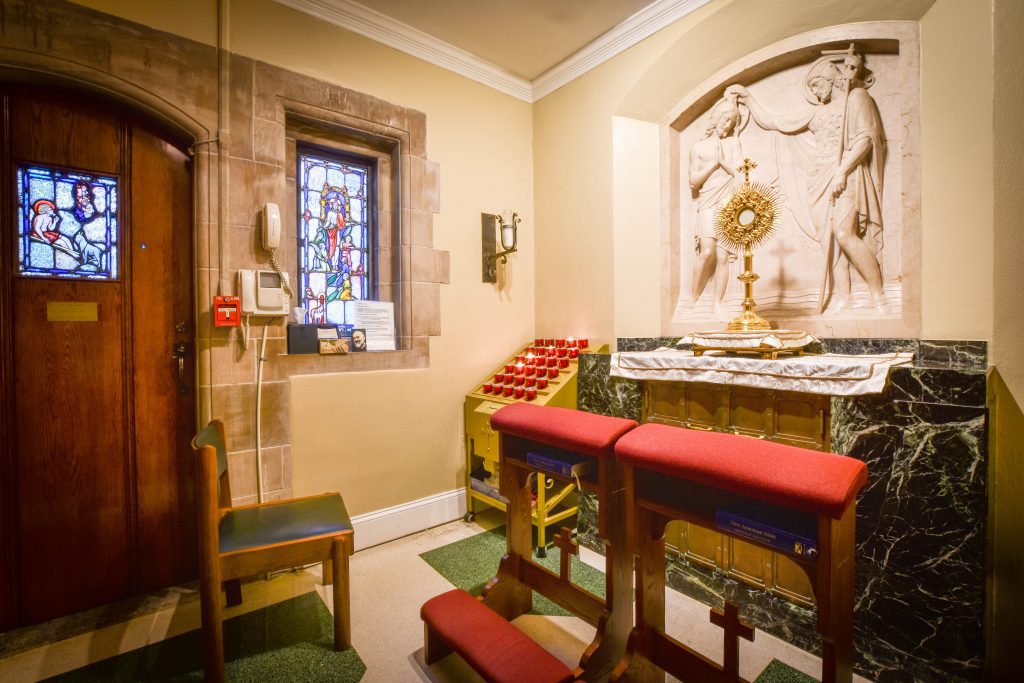 What is Adoration?
Adoration is a devotion in which the Eucharist remains exposed on the altar held in what is called a "monstrance" (a vessel). Perpetual Adoration is a devotion continuing without interruption 24 hours a day, 7 days a week, in which parishioners commit to a specific day and time (one hour) every week.
Each moment that you spend in His Eucharistic Presence will increase His Divine life within you and deepen your personal relationship with Him.
When you look upon the Sacred Host, you look upon Jesus, the Son of God. "Indeed, this is the will of my Father, that everyone who looks upon the Son and believes in him shall have eternal life. Him I will raise up on the last day." (John 6:40)
Why Adoration of the Blessed Sacrament?

To bring honor and glory to Our Lord through praise and worship.
To profess your faith and gratitude for His true presence in the Eucharist.
To deepen your prayer life and our personal relationship with Jesus Christ.
To spend time listening to Our Lord to discover His will for your life.
To be healed physically, spiritually, and emotionally, and deepen His Peace within you.
Prayer is the Heart of Every Parish "What we need is for every Parish to come before Jesus in the Blessed Sacrament in holy hours of prayer." Mother Teresa
What if I am unable to fulfill my committed hour?
There is a list of people who are willing to substitute for you when you are unable to fulfill your commitment.
What hours are in most need of guardians?
Please consider the hours from midnight to 6 AM. These are the hours that are the most difficult to fill as they require the most sacrifice. From 10:00 PM-6:00 AM the chapel is not open to the public but only to assigned guardians.
Click here to sign up as a guardian.
For more information, email adoration@ctking.com.