Drama Club

Grades 5, 6, 7, and 8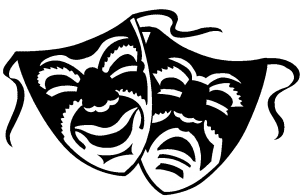 Drama Club is an extracurricular activity available for 5th, 6th, 7th, and 8th graders. In Drama Club, we are very committed to making each student's experience a positive one, not only by reinforcing the basics of performance learned in classes, but also providing an additional venue for teamwork and pride. The atmosphere will be one where students have fun and look forward to expressing themselves in meetings, performances, and maybe even field trips to see performances!
The goal of this club is to explore the interests of the students with regards to drama. The program will cover Fall Play and Spring Musical. All are welcome to participate with one or both. Spots are not guaranteed and are first come, first serve. Those registering after the cap / limit will be wait-listed and notified if a spot opens before the program begins.
The Drama Club wishes to create an environment for youth interested and wish to commit themselves to the arts through theatre, drama, acting. Drama has proven to enhance a youth's development by positively impacting cooperation and collaboration skills, imagination and creative thinking skills, and concentration to name a few. Participants will be exposed to exercises guiding them in areas of character work, dancing, and improvisation. They will have the liberty to fulfil their thoughts and express their independence of expression through theatre concluding with a better love and passion for the arts.
All participants are asked to review the calendar and schedule. Those involved in the program are permitted to miss 1 rehearsal and 0 dress rehearsals before being replaced with an alternate. Commitment to the show is important and required.
No Refunds are available after 8/29/2018.
TIME:

 3 – 4:30 PM (most days, check invidividual calendar below)



WEDNESDAY:
 exceptions include Halloween and show nights

DATES:
 AUG 14 3:30 – 5 PM – Auditions

 AUG 15 2:30 – 4 PM – Auditions
 AUG 22 2:30 – 4 PM – Rehearsal

 AUG 29 2:30 – 4 PM – Rehearsal
 SEP 5 2:30 – 4 PM – Rehearsal
 SEP 12 2:30 – 4 PM – Rehearsal
 SEP 19 2:30 – 4 PM – Rehearsal
 SEP 26 2:30 – 4 PM – Rehearsal
 OCT 3 12:30 – 2 PM – Rehearsal (pizza provided)
 OCT 10 2:30 – 4 PM – Rehearsal

 OCT 17 2:30 – 4 PM – Rehearsal
 OCT 24 12:30 – 2 PM – Rehearsal (pizza provided)
 OCT 30 3:30 – 5 PM – Rehearsal (Tuesday)
 
 NOV 1 3:30 – 5 PM – DRESS Rehearsal / Cast Family Show
 NOV 2 Curtain Call 6:30 PM / 7:30 PM Show
 NOV 3 Curtain CAll 6:30 PM / 7:30 PM Show
LOCATION:
 Kenny Hall
COST:
 $225 (14 sessions)
MINIMUM OF 25 PARTICIPANTS (per session) NEEDED TO RUN PROGRAM
ALL SLOTS HAVE BEEN FILLED, NO ADDITIONAL SLOTS
AVAILABLE. (updated 7/25/2018)
(

if min. is not met program will be canceled and refunds issued

)
Instructor:
Miss Agresta
Contact:
Adrian

Email: rec@ctking.com
Adrian, 404-233-2145 x100: REC@CTKING.COM
.
Drop-off / Pick-up
PROGRAM PARTICIPANTS Check-In
CKS students registered for a parish recreation program (CTK) are dismissed from school and released to the recreation program. Participants are picked up from the CKS Cafeteria by Adrian or Program Instructor. You MUST complete a "Carpool/Walker Change Form" for Christ the King School. Your participant will not be released to a parish recreation program without this change form. Students from other schools will check-in via the parish front desk to be escorted to the appropriate program or by arrangement with program instructor.
PICK-UP
Pick-up location to be announced before first scheduled class.
Registration Notification:
By registering electronically you acknowledge you will read, complete/sign the Recreation Parental Permission and Release which includes Parental Permission to participate, Concussion Information Page, Archdiocesan Safe Environment, Media Release, and Medical & Online Submission Release and authorize your registrant's participation in recreation programs.
.
.
.